Relax with a foot massager
Tired after a long day of work? A great way to relax and relieve your tension is with a foot massager. Feet are the most used part of the human body and if you haven't got a chance to know how great it feels to get a foot massage done, then getting a foot massager is your chance. You can use this anytime, while idle or while working on your laptop. A foot massage improves your digestion and helps you to get a good night's sleep. So indulge yourself and invest in the best foot massagers available in the market:
Wooden Foot Massagers-The wooden foot massager applies pressure at relevant points in your foot, penetrates the tired muscles, and relaxes them. You can use them on a daily basis while studying, working or at leisure time. This is especially designed for hardworking people and will last longer due its wooden frame.
Dr. Scholl's DRMA7801 Massager-Dr. Scholl's DRMA7801 Warming Foot Massager is quite different. It has two levels of heat. It is made of a soft shearling-like material for extra comfort. This is a great way for you to relax and unwind after a busy day.
UComfy Leg and Foot Massager-This is possibly the best one in the market. It covers your whole feet and whole calf with vibrations. It has an adjustable tilt for a comfortable angle. It's got three speed levels and intensity settings with a 15 minute auto shut timer so you don't have to worry about switching it off. With a comfortable footrest and two easy removable fabric covers, it massages the whole lower leg area along with your feet and ankles.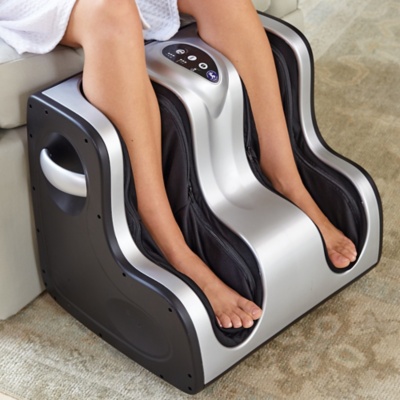 Reflexology Foot Massager-A proper reflexology foot massager is very good for your health. This reflexology massager is scientifically made with rotating knuckles, shaped to the exact structure of human hands to give your feet the healing hands touch on specific reflex zones. It has built-in infrared heat that penetrates your muscles and helps you to relax by flushing out toxins.
For the new year, don't just look good–feel good, too!
Guest Blogger: Hina