Best of the Web: Be @ Home #8
Celebrate the end of September with a great big cluster of blogs to inspire you and your home. This edition of Best of the Web: Be@Home has a little bit for everyone, from bakers and chefs to designers and crafters. Dive right in!
Visit studioJudith for an ever enchanting array of explorations in art, travel & design. Features include  her oft-published mixed media and digital collages.
You can also find out about some great talents in Irish design and architecture with i like local*. If you're in the area, be sure to prepare for the best of Dublin and take a look at this blog for current events and exhibitions in Ireland, especially for those design and art fanatics.
Yummy Scrumptious chronicles the design world from a designer's perspective. This designer reports on projects, objects of her inspiration, new products, and events as well as design advice.
Mely, editor of Mexico In My Kitchen, cooks traditional homestyle Mexican cooking and loves sharing recipes of the everyday food in Mexican homes using real food. These are dishes that had been passed down from Grandmothers, mothers and aunts.
On a Lobster Placemat is a healthy living blog that focuses on storytelling through food. Every meal has a moment, every food has a history, and these ideas easily meld into discussing life through food. The blog features vegetarian and non-vegetarian meals that are easy to prepare, good for you – and give you something to think about later. Author Rose (who is also a fiction writer) hopes readers find inspiration not only in the kitchen, but in their daily lives.
Before the start of Versatile Vegetarian Kitchen,  Champa was born and raised in India as a vegetarian and she moved to the US 11 years ago.  Champa loves good vegetarian food and was intrigued by ovens (which she did not have in India) and baking became a new hobby along with cake decorating.  People always asked her for recipes and instead of emailing just one person, Champa started writing them down on her blog. This blog has vegetarian recipes mostly Indian, but a vast variety of baking recipes, some cake decorating tutorials.
Rosey Rebecca documents life for a 23-year-old college journalism major (about to graduate in December), as she strives to maintain a happy, healthy life in a world full of food. Her blog posts cover a variety of topics from recipes, to restaurant reviews, to product reviews. She also discusses her day to day life, hosts giveaways, and interacts with other bloggers and readers on a daily basis.
Nivedita's Kitchen specialty is to introduce the North Karnataka food to the world with enticing and detailed recipe posts full of delectable food photos. For the health-conscious, there are also posts on kid-friendly healthy foods as well.
Fat Quarter Shop's Jolly Jabber Blog is a place to get up close and personal with your (and our) favorite fabric and sewing pattern designers!  You will find a galore of contests and giveaways, quilting & sewing ideas, tips and more!   They also highlight exclusive kits and clubs only at Fat Quarter Shop!
Twin Fibers is about  twin sisters who love to create, design, sew and quilt. Their love for sewing started a few years ago when they could find modern, fun fabric prints from contemporary fabric designers. Quilting and sewing beautiful items with these fabrics is so much fun. They enjoy sharing their creations and hope to inspire others along the way.
For teddy bear and crafting enthusiasts, here's Tag Along Teddies Blog. Full of inspiring crafty and quilting posts, head over to this side of the web!
One person's trash is another person's treasure. This blogger started Trash to Treasure Decorating to share ideas for taking discarded objects, yard sale finds, and stuff from your own basement and giving them a second chance. She calls it five-star furnishing on a one-star budget. The blog also features a lot of faux finishes with tutorials on faux finishing the budget-friendly way.
At Three Kitchen Fairies, every quilting or crafting project is made with the intention of full filling a necessity: a pouch for a friend, a pencil case for my daughter, a quilt for a new family member, a table runner to make our daily spaces more pleasant.
At My Petite Maison, you'll find an introduction to a store that carries one-of-a-kind, beautifully time-worn and hand-picked treasures from France. The blog also features French cuisine and gardening!
Through the blog My Castle in Spain, this blogger wants to celebrate the Andalusian slow life, interrupted now and then by occasional trips to the buzzing cities, Paris and Madrid.
Hidden in France is a playful blog written by a French native living in Los Angeles.  The blog is filled with inspirational, colorful images and it celebrates and pokes fun at favorite female topics such as décor, home life, travel, food, music, politics and all things French.
Another travel-oriented blog to take a gander at is The Travel Stylist. As a writer and style consultant, Natalie created The Travel Stylist to catalog stories about lifestyle, design and culture, and share the tales of her bemused travels to inspire others on their quest to live a more vivid and colorful life.
At Deep Into the Darkness Peering, Blog editor Ruth likes to post about the creative things she does – these are mostly gardening, crochet, cooking and home decorating. She's  also starting a new series on her blog called Real Gardens – this will be a monthly tour through a real everyday garden, to show how people create beautiful liveable spaces while also dealing with everyday necessities like washing lines, compost bins, small spaces etc.
Rue and Hyssop is one woman's journey through the seasons, as reflected in her home, garden and spirit.  Discover farmers markets, recipes, giveaways, musings and even a little magick!
For inspiring music, clothing, interiors, travels, food and more, check out Earl Glenn. "Whatever comes to mind" is the guiding principle of the blog; the name of Earl Glenn is after this blogger's grandfather and his timeless sense of style and overall coolness.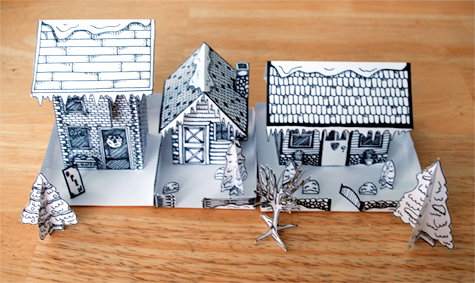 Take a gander at twelve22 for perspectives on many topics from food to crafts to gardening to running. It's truly a full lifestyle blog that incorporates so many facets of everyday life.  To prepare for winter, twelve22 offered us a great post from her blog of a wintry paper house for enthusiastic holiday décor!
For a bit of everything, there's The Little Red House. Things to eat, create, find at thrift stores, cry about and laugh about, with lots of photos in-between. With talks about the importance of good eating and exercise one day, and baking a chocolate cake the next, you'll find that this blog is all about balance!
Honey Girl Studio is a little window into this blogger's creative life of art, gardening and food!  She likes to show what inspires her to create mixed media art and that can be anything from a flash of color to a walk in nature to a pair of new shoes!  Her mixed media art encompasses collage, stamping, painting and the use of fibers with a "fresh vintage" feel.